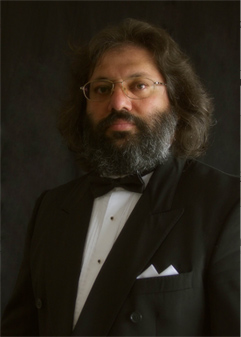 Leonti Wolf has been the musical director of the Tel Aviv Philharmonic Choir since 2001.
Maestro Wolf was born in 1956 in Novosibirsk in the former USSR and acquired his musical education in that city. He was the conductor at the Chelyabinsk Opera and Ballet House, and also acted as the musical director of the Izhevsk musical theatre.
In 1990 he declined an offer to become the musical director of the Novosibirsk Opera, and instead immigrated to Israel; since then, he has conducted the finest orchestras and choirs in the country, such as: the Young Philharmonic Orchestra, the Israel Chamber Orchestra, the Camerata Orchestra of Ramat Hasharon, the Beer-Sheva Sinfonietta, the Musica Nova Group, The Haifa Theatre and Haifa Symphony Orchestra, and the Negev Light Opera, with which he took part in productions of Gilbert and Sullivan. In 1997 he was also a member of the jury for the international choir competition in the Czech Republic.
In the 1997/8 season, Leonti Wolf was the assistant conductor of the Kibbutz Chamber Orchestra. In 2000 he was invited to Tbilisi, Georgia, to perform opera sections and Israeli classical music; he also conducted the Kibbutz Orchestra in a selection of arias and duets from Mozart operas.
Since the 2001/2 season, Leonti Wolf has been the conductor and musical director of the Musica Nova ensemble, which in 2002 garnered great acclaim during a concert tour in the USA. Maestro Wolf has also been the conductor of the Technion choir since 2002.
Since 2013, he has been the conductor of the Emeritus Chamber Orchestra, an ensemble made up of retired musicians from the Israel Philharmonic, the IBA Symphony Orchestra, and other orchestras.